Using AwardFinder (Chrome Extension) to Find Award Travel Availability
AwardFinder is a cool Chrome extension which can search for airline award availability and help you book free flights with your airline miles. I recently used this extension to book a business class award to South America, but I haven't found a lot written about it yet. So this post can walk you through what it is and how to use it.
Install AwardFinder
First things first, install AwardFinder from the Chrome app store.
Set up all your frequent flier accounts
After you install and run the app in Chrome, you'll see the settings icon at the top right. You'll need to enter all your frequent flier accounts there. This is super annoying because you might not even have accounts for all the different search engines, and also they're all labeled with two-letter airline abbreviations.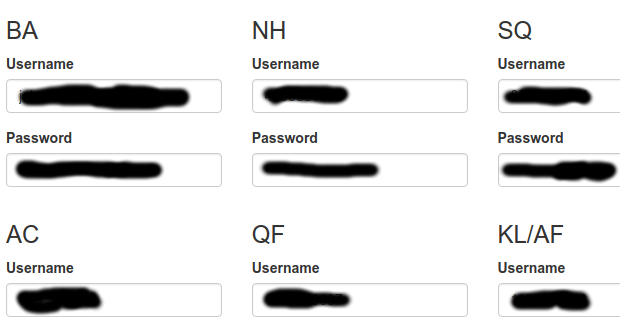 To help you decode which accounts are which airlines, here's a table.
I assume these particular airlines were chosen to cover a wide range of partner networks (eg. OneWorld, Star Alliance). Go ahead and sign up for any/all of those, and input your usernames and passwords. Feel free to laugh at the airlines who require 4 digit PINs instead of real passwords, and make sure to save all this junk in a password manager.
You might notice that none of these airlines are US airlines. If you're in the award travel hobby, you probably already know why. Finding availability is sometimes better done by searching an airline's partner's website than by searching the website of the airline you want to fly. For example, British Airways is a way better search engine for American Airlines availability than American's own site. Whatever. All the major US airlines are partners with one of the above airlines, so this app will get you all the results you want.
Now run some searches

After the annoying part of filling out each profile is done, just run some searches. It's doing a bunch of searches on a bunch of different sites, so it takes a few minutes to return results. And if you perform too many searches too quickly, a few of the websites will ask you for a CAPTCHA. That's just the way those sites work, there's nothing AwardFinder can do about that.
Check out all that sweet business class availability: